Here is where we list upcoming and past reunions.
All we need from you is the information to post.

The LVHS Alumni Web Site is constantly under construction!!

Any info you'd like posted feel free to email to reunion info for inclusion!
Current reunion years without info will be posted in aqua
2013 reunions
The 2013 Wildcat reunion will be held on September 7!
***
Class of 1943
***
Class of 1948
***
Class of 1953
The class of 53 is holding their 60th reunion June 7th & 8th 2013.
For information; John Holland
1770 Autumn Rust Dr.
Las Vegas, NV 89119
702/614-8654
newlife69@cox.net
***
Class of 1958
***
Class of 1963

50TH REUNION SCHEDULE
FRIDAY, September 6, 2013
Reunion Reception 5:30 p.m.
Presidential Suite @ The Orleans Hotel
(suite provided by Clayton Downey)
Complimentary Appetizers
Please bring your favorite memories, pictures & stories.
Oh and anything special you would like to drink!

SATURDAY, September 7, 2013
Open House
Presidential Suite @ The Orleans Hotel
Open 9:00 am-4:30 pm
closed during Wildcat Reunion
(see below then re-opening after)
5:00 p.m. – 9:00 p.m
"Wildcat Reunion"
The Orleans Hotel Mardi Gras Ballroom (second floor)
Buffet Dinner-Entertainment-Cocktails
Your invitation for the Wildcat Reunion will be sent to you by the LVHS Alumni Association in early July, 2013.
We hope you will enjoy participating in a reunion of all LVHS Alumni!
Since we have excess funds from prior years, we will be paying part of the $45 fee for our 1963 Classmates.
When you send in your reservation for the Wildcat Reunion,
please pay a reduced fee of $35 for yourself and $45 for spouses/guests
(if paid in advance - only).
Please send the form and fees directly to the
LVHSAA Wildcat Reunion – in the envelope provided
Please indicate "Class of 1963" section seating

SUNDAY, September 8, 2013
Presidential Suite @ The Orleans Hotel
9:00 am – noon
for final visits and socializing

"GOLDEN GRADS" CEREMONY–JUNE 6 & 7, 2013
Every year, during the June LVHS Graduation Ceremony, classmates celebrating their 50th reunion (Golden Grads),
are invited to participate in the current year's graduation ceremony.
A gold cap (which you can keep)
and a gold gown(that will need to be returned)
will be provided for the Graduation Ceremony.
A luncheon for the 1963 participating classmates (and one guest)
will be held on Thursday, June 6, 2013 at 11: 00 a.m.,
on the current LVHS campus.
The graduation ceremony will be held on Friday, June 7, 2013 at 7:30 p.m.,
on the football field on the current LVHS campus, 6500 East Sahara Avenue.
If you are interested in participating in this special ceremony we need the following information:
Street and email address, your height, the number of luncheon tickets
(limited to 1 guest), and the number of tickets for your ceremony guest(s).
The deadline for our forwarding this information is April 30, 2013.

CONTACT INFORMATION
The Orleans Hotel and Casino, 4500 W.Tropicana Avenue, Las Vegas, NV 89103
Reduced room rates for LVHS Reunion before Aug 28
GROUP CODE A3LVC09
Room Reservations 800-675-3267

Sherman Simmons ssimmonsff@aol.com
3711 Industrial Rd. #6, LV, NV 89109
702-731-1011
Jan Lamb-Hill lvhs1963.reunion@yahoo.com
702-658-9288
***
Class of 1968
***
Class of 1973
40TH REUNION
We will be celebrating at the Wildcat Reunion on September 7th at The Orleans Hotel in the Mardi Gras Ballroom.
There will be special tables for our class, so be sure to RSVP early. You will receive information by mail the first week of July.
For further information, contact Kathi Lilly Schell at klillyschell@hotmail.com or (702) 523-9977.
***
Class of 1978
***
Class of 1983
***
Class of 1988
***
Class of 1993
***
Class of 1998
***
Class of 2003
***
Class of 2008
***
Info & pictures from past reunions
Class of 1952
60th reunion was Friday, September 14, 2012.
For further information contact:
George Davis at (702) 240-7643
or email to: geokimdav@cox.net
***
Class of 1957
Class of 1957's 55th reunion was
Friday, September 14, 2012
Saturday, September 15, 2012
For further information:
Mickey Hollinghead at mgh_dds@yahoo.com
Dee Trumble Hale at HaleDT@co.clark.nv.us
Barbara Falba Chapman at (702) 263-7887
or email: bleeinlv@yahoo.com
***
Class of 1960
Class of 1960 held its 52nd Reunion Dinner
Friday, September 14, at Macayo on East Tropicana.
For further information, contact
Rowena Mitchell Thiess at 702-306-3220
email lvhs60@aol.com
***
Class of 1962
The 50th Reunion for the Class of 1962
was September 21 and 22, 2012.
Go to LVHS62.org for info
***
Class of 1967
45th reunion was held
October 13th,14th
Any questions, please contact:
marci_lvhs@msn.com by email or call MaryAnn 702-321-3429
***
Class of 1972
Class of 1972's 40th reunion was
Friday, September 14, 2012
Saturday, September 15, 2012
Sunday, September 16, 2012
For information call:
Dave Williams at (702) 355-8676
or email: dazapw@gmail.com
***
LVHS classes of 73, 74, 75 and 76!
Had a get together
Saturday April 28th
Contact Keith West via email at:
angelfan@hickorytech.net
Facebook:
LVHS classes of 74, 75, & 76
***
Class of 1977
Roger Watson at rwkmwatson@embarqmail.com
***
Class of 1959 luncheon-Golden graduation ceremony
click here for pictures!
***
Class of 1954
The Class of 1954 held their 55th class reunion
Friday, September 11, 2009
at the home of Rollie Gibbs.
***
Class of 1959
Reunion was held
October 17 at the M Hotel & Casino, Las Vegas, NV
For more information please contact:
Marcia (Young) Krause at adiosnana@aol.com - 458-5730
Nancy (Bower)Peccolli at bobb00878@cox.net - 878-3445
Rana (Gee) Goodman at rana0527@aol.com- 433-6618
Rana, Marcia and Nancy
***
Class of 1979

We attended the Sept 12 Wildcat reunion as well.
Class of 1979 30th Reunion (Classes 78 & 80 invited)
September 11, 7:00pm
We also hosted a Bowling Party at Sams Town after the Wildcat Party...
allowing our class to continue the party as long as possible!!
We have a Facebook page under "LVHS Class of 79"
we are also on Classmates.com
***
Class of 1984 had a cocktail reception on September 11th from 5 p.m. to 10 p.m.
September 12th, they attended the Wildcat Reunion at Sam's Town.
For more details, contact either Cyndie Dunn or Lesa Peppers (Vasquez)
at LVHS84@yahoo.com.
***
Class of 1989
The 20th Reunion for Class of '89 happened Homecoming weekend: Oct 9, 10, 11.

Class of 1945:
The class of 1945 had their 63rd reunion on Friday, September 19th at the Italian American Club.
There were 58 attendees, including some from other 40s classes.
Seated: John Mendoza, Tom Pursel, Patty Roach Deverell, John Foley, Fred Gibson,
George Zettler, Barbara Knudson Henry,Beverly Johnson,Joylin Johnson Vandenberg
Standing: Leslie Smith, Martin Hardy, Paul Stokes, Melvin Whipple, Andrew Mikulich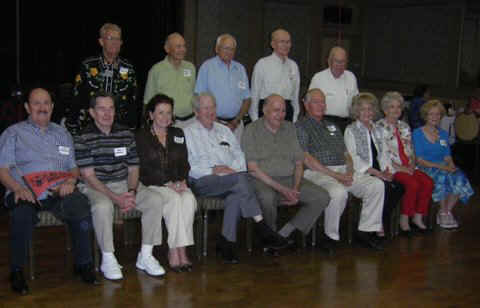 click picture above for photo album
Contact was Joylin Vandenburg at 702/873-2833 or joylinv@cox.net

Class of 1958:
The class of 1958 had their 50 year reunion October 17-19, 2008
A Friday night ice-breaker was held at the home of Peggy Williams Hallerberg
The Saturday night dinner was held at Canyon Gate Country Club.
Click here for photo album

Contacts were Linda Rankin Givens at 702/363-5511 or ljgunlv@cox.net,
or Peggy Williams Hallerberg at 702/250-9380 or peggyhaller@earthlink.net
Class of 1968
The class of 1968 had their 40 year reunion October 18, 2008
Contact was Suzanne Hoskinson Scano
(702) 250-0833
e-mail: sscano13@yahoo.com

Class of 1972
Contact: David Williams email me here!!
Class of 1976
Las Vegas High School Class of 1976 HomePage
(created by David Long, class of 1976)
class Newsletter by Dennis Berry (click here)


Class of 1988:
The class of 1988 had their 20 year reunion October 4, 2008
Contact(s) were Veronica Blas Dahir at 775/741-8530 or roni@unr.nevada.edu