Here is where we list upcoming and past reunions.
All we need from you is the information to post.

The LVHS Alumni Web Site is constantly under construction!!

Any info you'd like posted feel free to email to reunion info for inclusion!
Current reunion years without info will be posted in aqua
2014 reunions
The 2014 Wildcat reunion will be held on September 13, 2014!
***
Class of 1944
***
Class of 1949
***
Class of 1954
***
Class of 1959
***
Class of 1964
This year marks the 50th anniversary of the class of 1964. We are planning several events commemorating our class, beginning with the Helldorado parade. Come march in the parade with us and our 15 foot tall roaring Wildcat float. Itís a site to see, and we have won awards. The parade is May 17.
Our second event for the class of í64 is our Golden Grads celebration, where we will march with this yearís graduating class. We will be wearing gold caps and gowns and we will be introduced individually. We will have a luncheon, June 4, the day prior to graduation at LVHS. We are also planning a casual get together June 6.
The 3rd event will be the inclusion of the class of í64 in the annual LVHS reunion of all classes held at the Orleans Hotel September 13, with an ice breaker on the 12th. We will be providing more details as these dates get closer, but we need your contact information. We would like to see as many of our classmate participating in as many events as they can.
If you are not sure if our committee has your contact information, you can email:
Dianne(Abercrombie)Oliver, dianoliver@aol.com or Matt Shlisky, Chewie46@aol.com.
***
Class of 1969
***
Class of 1974
***
Class of 1979
***
Class of 1984
***
Class of 1989
***
Class of 1994
***
Class of 1999
***
Class of 2004
***
Class of 2009
Info & pictures from past reunions
A pdf newsletter by and for the class of 1953 on their 60 year class reunion
Class of 1962
The 50th Reunion for the Class of 1962
was September 21 and 22, 2012.
Go to LVHS62.org for info
***
Class of 1972
Class of 1972's 40th reunion was
Friday, September 14, 2012
Saturday, September 15, 2012
Sunday, September 16, 2012
For information call:
Dave Williams at (702) 355-8676
or email: dazapw@gmail.com
***
Class of 1959 luncheon-Golden graduation ceremony
click here for pictures!
***
Class of 1945:
The class of 1945 had their 63rd reunion on Friday, September 19th at the Italian American Club.
There were 58 attendees, including some from other 40s classes.
Seated: John Mendoza, Tom Pursel, Patty Roach Deverell, John Foley, Fred Gibson,
George Zettler, Barbara Knudson Henry,Beverly Johnson,Joylin Johnson Vandenberg
Standing: Leslie Smith, Martin Hardy, Paul Stokes, Melvin Whipple, Andrew Mikulich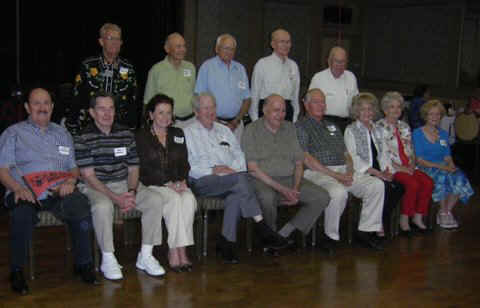 click picture above for photo album
Contact was Joylin Vandenburg at 702/873-2833 or joylinv@cox.net

Class of 1958:
The class of 1958 had their 50 year reunion October 17-19, 2008
A Friday night ice-breaker was held at the home of Peggy Williams Hallerberg
The Saturday night dinner was held at Canyon Gate Country Club.
Click here for photo album

Contacts were Linda Rankin Givens at 702/363-5511 or ljgunlv@cox.net,
or Peggy Williams Hallerberg at 702/250-9380 or peggyhaller@earthlink.net

Class of 1972
Contact: David Williams email
Class of 1976
Las Vegas High School Class of 1976 HomePage
(created by David Long, class of 1976)
class Newsletter by Dennis Berry (click here)