Welcome to the
LAS VEGAS HIGH SCHOOL
ALUMNI ASSOCIATION
1854 Taylorville Street, Las Vegas NV 89135 * Email: lvowl@aol.com * Phone: (702) 876-6660
A 501©3 Non-Profit Charitable Organization

Once a Wildcat, Always a Wildcat!

We offer information about the group, present memorabilia and
content pertaining to Las Vegas High School and alumni from all classes since 1913
This is also a good place to contact us
We have a Facebook group too! Click here
LATEST NEWS FROM THE LVHSAA
The alumni association would like to take a moment to say "Happy Birthday"; to all those Wildcats born in the month of January and we hope you enjoy many more! Once a Wildcat, Always a Wildcat.
***
There was an all-class Wildcat Reunion this year on Saturday, October 16, 2021. Flyers were sent to all alumni on our mailing list in mid-July. If you didn't receive one, please let us know by email to lvowl@aol.com if you have a new address.
The final list of attendees for the Wildcat Reunion,
updated to include those that paid at the door
(downloadable PDF)
***
Thanks to the generosity of donations from our alumni, we awarded $31,000 in scholarships this year - $17,000 to 2021 grads plus $14,000 as continuing scholarships for 2020 grads. Here are the totals of our scholarship awards since inception (2009).
LVHS graduates: 92 totaling $168,000
2nd year recipients: 13 totaling $ 22,100
Total all: 105 schoarships totalling $190,100

***


MANY THANKS - to our great alumni who have sent donations for our Grant and Scholarship funds over the last year. Even though we were not able to hold the Wildcat Reunion last year, thanks to your generosity, we were able to provide 19 scholarships again this year. Thanks also to those of you that became members or renewed your memberships over the last year. We appreciate your helping us keep our critical mission alive! Donations may be made by sending us a check payable to LVHSAA to the address at the top of this page, or by clicking below to donate by credit card.
Just click here for the donation form.


LAS VEGAS HIGH SCHOOL ALUMNI ASSOCIATION SCHOLARSHIP PROGRAM
We provide scholarships annually, ranging between $1000 and $4000, to LVHS seniors planning to attend a Southern Nevada college or university. These scholarships are available directly from the LVHSAA. This year we provided $17,000 in scholarships to 12 graduating seniors, plus $14,000 for 7 second year scholarships. We offer 2nd year scholarships to recipients who have earned a minimum of 12 credits and maintained a minimum 3.0 GPA.

Students - If you would like to apply for one of our scholarships, please contact your
LVHS Counselor for details.

The main source of funding for our scholarships is your donations.
If you would like to contribute to our Scholarship Fund, it's easy! Send a check payable to LVHSAA to the address at the top of this page.
***
ATTENTION ANNUAL MEMBERS – Don't forget that your membership expires on September 30 each year. So if you haven't already done so, please send a check, payable to LVHSAA, to the address at the top of this page, to renew your membership now! Or you can pay on-line by credit card here:



LVA LEGACY PROJECT & LEGACY PLAQUES - The LVHSAA is very proud of our President Bruce Langson (1965) who spearheaded a project to preserve our old LVHS campus on 7th and Bridger. Bruce, along with alumni Senator Richard Bryan (1955) and Bob Stoldal (1961) worked diligently on this project for several years, resulting in the Clark County School District committing $15 million toward renovation and upgrading the campus (now the Las Vegas Academy). The Academy students love the campus as much as those of us that attended there do, and want it maintained – not replaced!
Many thanks to those of you that purchased legacy plaques or pavers, which helped fund for the recent renovation of the old auditorium on the corner of 9th and Clark. Click thumbnails below for larger images.


If you didn't already purchase one, it's not too late!
Click here for the plaque order form
Click herefor information on ordering a paver. https://www.lasvegasacademy.net/
and then click on "Paver Campaign" at the top of the page.

***

If you haven't already done so, NOW WOULD BE A GREAT TIME TO JOIN THE LVHSAA!
Dues are only $25 annually or $300 for a lifetime membership – OR
$40 annually and $500 lifetime for married alumni couples!
Annual memberships expire at the end of every September.
The LVHSAA is an approved 501(c)3 charitable organization,
so your dues are TAX DEDUCTIBLE!
To join now, click here for the membership form
Send the form and your check, payable to LVHSAA, to the address on the form, or you can pay or renew your membership through PayPal here:

All members receive our Wildcat Tales newsletter twice a year, with lots of information about our alumni!
Your dues go for a good cause – helping the students and staff of LVHS!
***

OFFICIAL MERCHANDISE!
In case you haven't heard, we have LVHSAA memorabilia available for donations to our Scholarship Fund!
These items make great gifts and all proceeds benefit our Scholarship Fund.
New item now available – WILDCAT FACE MASKS!
Click here for photos and prices
If you are the reunion contact for your class, you can help us out by having some of our memorabilia available for attendees at your next reunion. We will be happy to provide you with supplies! Just contact Patty at lvowl@aol.com or (702) 876-6660.

***

LAS VEGAS HIGH SCHOOL ALUMNI ASSOCIATION GRANT PROGRAM
THE LVHSAA OFFERS GRANTS FOR LVHS STUDENTS, TEACHERS AND ADMINISTRATORS!
Click here for details.
Students should submit their requests for assistance to their counselor.
Counselors, teachers and administrators should submit requests to LVHS Principal Ron Guerzon for his approval. He will forward approved requests to the LVHSAA for consideration.

***

DONATIONS OF SUPPLIES FOR NEEDY STUDENTS
LVHS is a Title 1 school with a high percentage of students from low-income families below the poverty level.Many of the LVHS staff members personally provide school supplies and food for some of their students. The school has established a Donation Center to collect supplies to help the needy students, and the LVHSAA provided funds to purchase storage supplies to house the donated items. If you would like to help by donating non-perishable food, clothing, school supplies, etc., contact Patty Haack at lvowl@aol.com or (702) 876-6660.

***

VEHICLE DONATION PROGRAM
Provide a scholarship or grant!!
Donate a vehicle, such as a car, truck, motorcycle, RV, off-road 4-wheeler, or other objects of value
and receive the largest tax deduction available for your donated items.
For more details, contact Bruce Langson at
(702) 265-1735 or email to blangson@hotmail.com

***

AMAZON SMILE PROGRAM
When making your Amazon.com purchases, add the LVHSAA to the list of charities helped by their Amazon Smile program. They donate 0.05% of your purchases to the charity designated. This is another way to add to the
LVHS Scholarship Fund! Click on the Amazon logo here:


VISIT THE "OLD" CAMPUS!
Check out the Senior Squares monument– created by the LVHSAA and funded by alumni donations to replace the Senior Squares.

Check out the LVHS memorabilia display in the beautiful cabinet donated by the LVHSAA and built by our Historian Joe Thomson. It is just inside the front entrance of the main building. The Academy welcomes visitors to stop by to see the memorabilia any time. The memorabilia is changed every few months and usually displays memorabilia from classes having significant reunions in any given year.
If you have anything you would like to display (you can either donate or loan to us), such as class rings, letter jackets or sweaters, or anything that will bring back memories from your years at LVHS, please let us know at lvowl@aol.com or (702) 876-6660.

***

WILDCAT FLOAT
Did you know that we have a Wildcat Float??
It was designed by our President Bruce Langson and built in former president Rollie Gibbs' workshop in 2009 by LVHS alumni from classes of 1954 through 2009. You can see photos of it being constructed on our Photo Page! It has participated in Helldorado Parades, Summerlin July 4 Patriotic Parades, Veterans Day Parades and LVHS Homecoming Parades. Here is a photo of the float ready for its first Helldorado Parade in 2009, with alumni and families that help build it! All alumni are welcome to ride the float – it's a lot of fun! It even "roars" as it moves along the parade route!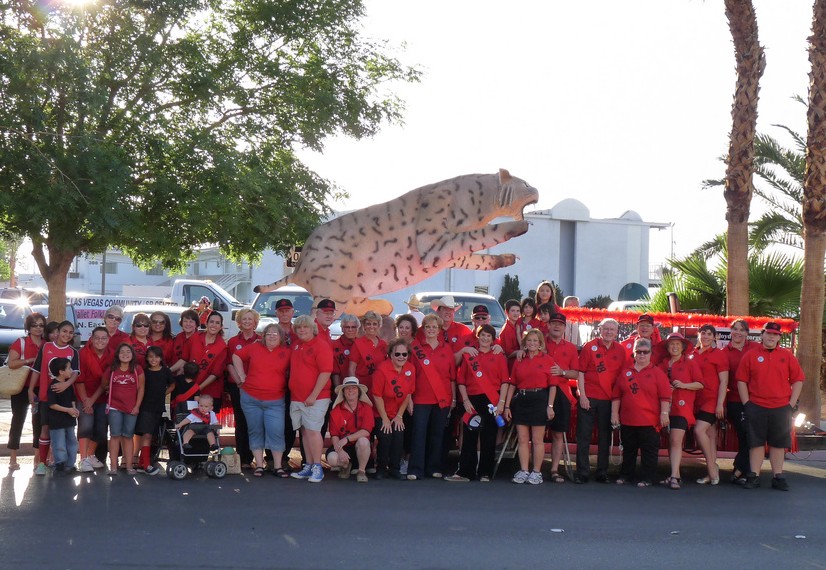 The Wildcat Float needs your help! We are looking for a new home for the wildcat! The float is approximately 13 feet long, 12 feet high and 10 feet wide and needs to be in a protected enclosure to avoid the elements. We would really appreciate it if you have any space available or have any suggestions. Please let us know. Thanks!!

***

CLASS WEBSITE LINKS
Does your class have a website? Have it listed here on our links page
Email us to submit your link for the website. All classes are welcome!
<--Click the links to the left for page surfing.